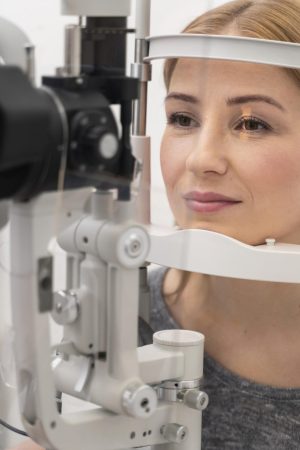 Gulati Eye Care and Medical Center
GULATI EYE CARE AND MEDICAL CENTER is one of the finest eye care Center in Haryana. We are part of Manav Kalyan Unit Private Limited, and our goal is to provide everyone the best eye treatment facility by using advanced equipment and the latest technology.
GULATI EYE CARE AND MEDICAL CENTER has the best and renowned surgeons from the government hospitals. The team of doctors and staff here are well trained. We create a patient friendly environment so that they feel comfortable during the treatment. With our proper guidance and consultancy patients recover in no time. Our Center provides the facilities correspondent to the best eye hospital in the country.
Now, no need to search for best eye hospital near me as we don't compromise with the quality of eye care. Our principal is to provide affordable treatment to every patient using the latest technology without compromising with the quality. Top notch services and attention towards the patient's care makes us the best eye care Hospital. If you are searching for eye care centre near me you have found an answer here and our eye care centre has special provisions for child and senior citizen patients which is supervised by our experienced staff. We offer special services for specially abled patients. Our eye care center also has some visiting faculties like Prof (Dr.) Dharamvir Chalia. He is the best surgeon for Cornea transplants and the director of the Regional Institute of Ophthalmology. Every doctor is well trained and experienced in their specialty. The whole team, including the doctors, nurses, ward boys and cleaning crew is very friendly towards patients. If you live in Ambala, Gulati eye care and Medical Center might be near by eye hospital for you.
Phaco Surgery with Premium IOL
This Surgery is done by laser under the supervision of a highly qualified and experienced doctor at our eye center. The technique is used for cataract treatment, and the removal of cataracts which is done using ultrasonic energy and then replaced with implanting the premium lens. Our eye center is also known for treating cataracts using Secondary IOL.
Glaucoma eye test is an elementary and simple test., here you can learn about the perimetry of Glaucoma. Our specialized doctors use laser treatment for Glaucoma. After the Surgery, glaucoma prevention idea is also conveyed to the patients.
Squint eye is the lack of proper alignment the patient's eyes. This problem is common in children by birth and if not treated it can remain till adulthood. This problem is known as "Strabismus". It is treated by the particular surgeon of our eye hospital with the help of special equipment.
Our eye care centre also provides cornea surgery. At Gulati eye care and Medical Centre special cornea surgeons removes all the damaged parts of the cornea and replace it with healthy tissue; this process is known as a cornea transplant. Cornea transplant cost is low in our eyes hospital compared to other eye care hospitals.
Retina, an eye care facility, is also available at our eye hospital. You can contact to us for eye care hospital near you. The retina is a sensitive part of the eye, so our team provides the outmost care during this treatment. We also used a laser for retina treatment, therefore it can also be called as a retina care hospital.
Anti-segment OCT includes the treatment of the front region of the eye, and it also consists of the treatment of the cornea, iris, and lens. We also manage this facility for children, and our eye care centre has highly effective treatment of low vision aids. Our eye center have best pediatric eye specialist.
Pterygium Surgery with Autograft
This Surgery is performed under the supervision of an experienced surgeon and staff. In this Surgery, removal of limbal tissue and adjacent conjunctiva is done with pterygium. The patient is fully guided by the doctor with essential medication to prevent inflammation and infection. If you are searching best eye hospital near you then contact Gulati eye care and Medical Centre.
Dacryocystorhinostomy (DCR) or Dacryocystectomy surgery is a simple surgical process that is done under 30-40 minutes without any pain or discomfort. Our eye care centre also provides the facility of eyelid surgery, and the process is commonly used in this type of surgery is known as Blepharoplasty. We offer all surgical processes under one treatment scheme, where the patient can get all the facilities at affordable rates.
Gulati eye care and medical center is best eye hospital near you. We always give our best facilities and satisfactory result to their patients. Our eye care centre has different provision for the children and senior citizen so they can feel comfortable during any medication or surgery. Gulati center for eye is an eye specialist hospital or eye sight hospital for latest technology with advanced equipment. Services of our eye care hospital include top notch machines for eye sight checkup.If anyone has some major problem related to eye sight, they catest all the checkups and surgery under one roof. Gulati hospital eye care center has all the facilities for eye treatment and patient satisfaction is our first priority.  We always try to accomplish our priorities with passion. We are the best hospital near you.